At Kamisuwa-Onsen Shinyu,your heart will be healed by Suwa,the historical city in where Suwa Grand Shrine(Suwa-Taisha) and Takashima Castle are.
Fine Natural hot spring,Traditional and cultural Japanese cuisine with blessings of nature,and rooms surrounded by Lake Suwa,With all these aspects,you will be pleased to spend your wonderful time and felt adult modesty in the inn which makes you beautifully healed.
Kamisuwa Onsen Shinyu's Charm
Bath of the source Bisuigensen
There is our own wellspring that spring out 50,000 liters of 60℃ (140F) hot spring every minute.
In a bath that you can get a panoramic view of Lake Suwa, you could enjoy an agar bath only found in Shinyu within Japan.
Original Japanese Kaiseki cuisine Miko Zenh
"Mikozen," is a banquet dishes which is originally created by Shinyu and is based in local production for local consumption.
You can gracefully enjoy that meal in a private spaced Japanese-style restaurant.
Free bus service to tour the four shrines of Suwa Taisha
The hotel's free tourist bus, "Shin Yu-go." Take it easy as we guide you by bus to the four shrines of Suwa Taisha. There are two departure times in the morning and afternoon. Also available for before check-in and after check-out, simply wait in front of the hotel.
Lighthearted relaxation time in yukata cotton kimono
A professional stylist will coordinate your yukata and tanzen kimonos fully.Please wear your yukata when unwinding in the hotel and when strolling outside. For those who eschew yukata,comfortable pajamas are furnished.
Healing art
of light and sound
You could find creations of art which were created by a healing artist, Norihiro Hirayama.
Please enjoy its fantastic world created with light and sound.
GuestRoom
Aoi-Tei Suite
Let yourself be embraced by the healing stillness of Lake Suwako.
Our comfortable Japanese-style Aoitei rooms provide soothing tranquility you won't encounter day-to-day.
■

Presidential-suite Miko no Shizuku  with Open Air Bath
■

Semi suite Miko no Shizuku  with Open Air Bath
Aoi-Tei
■

Aoitei Lake View Standard Rooms
 

(12 tatami matts, or about 20 square meters)
■

Aoitei Mountain View Standard Rooms
 

(10 tatami matts, or about 16 square meters)
■

Aoi-Tei Mountain View Standard Rooms
 

(6 tatami matts, or about 10 square meters)
■

Aoi-Tei Mountain View Twin
■

Aoi-tei Large Lake View Rooms With In Room Dining
 

(12 tatami matts, or about 20 square meters)
Shiki-Tei
Gaze out on a lovely and healing view of Lake Suwako.
Restful, soothing, and healing rooms where the beautiful scenery of Lake Suwako unfolds before your eyes.
■

Shiki-Tei Standard Rooms
 

(10 tatami matts, or about 16 square meters)
Kikyo-Tei
Enjoy hot springs and wonderful food.
Cradled by the silence of Lake Suwako, these rooms' proximity to our rotenburo (open air bath) and restaurant makes it easy to enjoy our spa and fine cuisine to the fullest.
■

Kikyo-Tei Mountain View Standard Rooms
 

(8 tatami matts, or about 12 square meters)
GuestRoom Information
Check-in / Check-out:
Check-in 15:00 / Check-out 10:00
Amenities:
bath*1  toilet with built-in bidet, vanitory  SafetyBox Telephone  LCDTelevision 
Air conditioner Electric pot Dryer
Accouterments:
Toothbrushes, hand towels, bath towels, razors, hair dryer, yukatas, shampoo & rinse, body soap
*1Depending on the room, shower booth
Some rooms have shower booths instead of bathtubs.
*Depending on the room the layout and interior design may differ
ONSEN (Natural hot spring

&

Spa)
Our geothermal spring right on the premises produces 50,000 liters of 60℃ (140F) water a day. This is seen as extraordinary, even for Japan. We take pride in our spring's high temperatures and its plentiful, continual flow of hot water.
We are sure that Kamisuwa-onsen-shinyu will do wonders for the healing and beautification of both body and mind.
Overlooking Lake Suwako, our onsen features facilities such as a rotenburo (open air bath) and a sauna.
In the women's bath we display the healing art of up and coming artists.
Our large common bath features artwork by various healers as well as a panoramic view of Lake Suwako, providing an ideal environment for the healing of body and soul.
Suwa's premier restorative spa will surely be just what you need for a wonderful holiday. We at Kamisuwa-onsen-shinyu await your arrival.
■

Tatami Matt Bath

Our private geothermal water source Bisui-gensen, 
Hygienic tatami matting designed especially for hot springs has been installed to help you enjoy this bath to the fullest.
The tatami is always warm underfoot and it's traction makes slipping almost impossible. In the unlikely event you did fall, rest assured you wouldn't be hurt.

You will be sure to have a wonderful time taking in the beautiful view of Lake Suwako from this special bath.
■

Large Common Bath / Partial Open Air Bath

We have to admit, it's great having your own inhouse hot spring source. Ours produces 50,000 liters of 60℃ (140F) water a day, the most plentiful in Kamisuwa-onsen.
The walls of this bath with a view of Lake Suwako are adorned with healing art.
Our partial open air bath is located on the roof. It offers a superb, sweeping view of Lake Suwako.
■

Reserved, Partial Open Air Bath

At Kamisuwa-onsen-shinyu, reserved, partial open air baths are available at three locations.
Even the washrooms of these baths are spacious.
These are also supplied by our in house hot spring.Enjoy!
Cuisine
Mikozen
Mikozen is the creation of our head chef Hiroshi Kamijo. It is innovative Japanese banquet cuisine that offers the best of the Suwa region, borrowing from elegant local traditions that showcase the four seasons. The mikozen menu makes liberal use of the bounty of Lake Suwako and Nagano prefecture, giving you a "taste" of the region.
Among the Mikozen courses, one that is particularly representative of the Suwa area is a dish known as Mikoshichin. It consists of quality ingredients from Lake Suwako and around Nagano prepared in a way that gives a real sense of the locale. It will surely be a wonderful part of your Suwa experience.
And then, conceived in accordance with the traditional twenty-four-part Japanese calendar, we offer the dish known as jisai-monogatari, or "Story of the Seasons' Hues."
Ingredients that change throughout the year give this dish a real feel of the seasons.
We are sure that once you try it, you will understand more fully the elegance of Japanese culture.
Mikozen
A manifestation of the Suwa people's creativity, for our guests.
We are proud to offer the best in Suwa's cuisine and hospitality.
  ※ These are only images.
Amenities
&

Service
■

Onsen

Our geothermal spring right on the premises produces 50,000 liters of 60℃ (140F) water a day. This is seen as extraordinary, even for Japan. We take pride in our spring's high temperatures and its plentiful, continual flow of hot water.
■

Miko Ryoutei
 (Traditional Japanese Restaurant)

Enjoy a leisurely breakfast and dinner in the private rooms of our traditional Japanese restaurant.We offer subdued and inviting classic design with either tatami matt seating or chair seating.
■

Lobby

Here we welcome guests with the light and sound of our art director Norihiro Hirayama's healing work.
It is a great place to relax during your stay.
■

Minamo-tsuki Gift Shop

Business hours: 8:00 AM – 10:00 PM daily
Offering gifts ranging from Suwa area specialty products to works from our art director Norihiro Hirayama.
■

Salon

Business hours: 4:00 PM – 11:00 PM daily
Step out of daily life, balance body and soul, and enjoy genuine aromatherapy, all in the private space of our Pure Drop Salon.
■

Yukata (Casual cotton kimono )

Nothing is more beautiful than women in yukata on the backdrop of Suwa Lake. We offer yukata created by Kyoto artisans, from our owner's inspiration. Our professional stylist offers complete yukata and tanzen (large padded kimono) coordination.
■

Bedding

Our Italian Magnaflex mattresses and nanofiber futons are gentle on your back, and will help you have a restorative night's sleep.
■

Strolling along Lake Suwako

The roadway around Lake Suwako is separated from the jogging path and promenade, so you can enjoy a pleasant stroll anytime. We provide our own walking map.
■

Free Tour Bus

We operate a free tour bus, the comfortable "Shinyu-Go," that visits the four main Suwa shrines and other places of interest.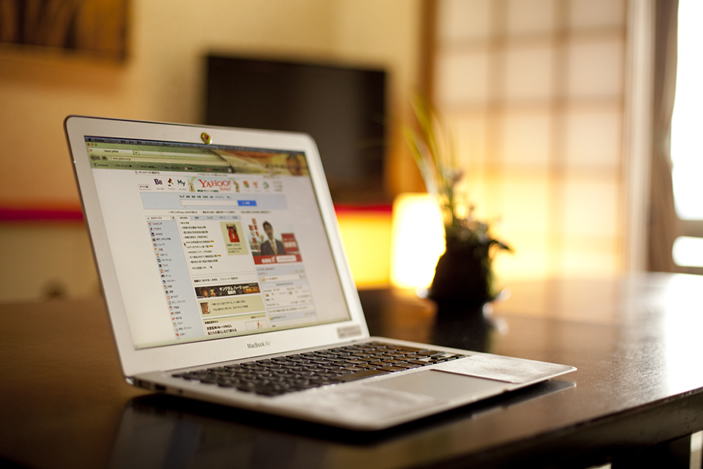 ■

Free Wi-Fi

Free Wi-Fi is provided in anywhere.
Access
Hotel policies & services
Check-in:
From 15:00
Check-out: Until 10:00
Payment:
Visa, MasterCard, American Express, Diners Club, Note: It is only the Japanese yen in the case of cash
Internet:
Wi-Fi Internet free of charge in all rooms and general areas (lobby/reception etc.)
Pet policy:
Pets are not allowed.
Services:
24-hour front desk  Luggage storage  Tours/ticket  Assistance  24-hour security  Car rental desk  Wake-up calls  Sightseeing Concierge
General facilities:
Elevator  Snack bar Coffee in the Lobby  Breakfast Available  Air-conditioning  Banqueting service  City maps  Telephone  Safe at front desk
Extra common areas:
Coffee shop/café  Non-smoking area (generic)  Smoking area lounge
SIGHTSEEING
■

Narai-juku

Narai-juku is a well-known placein Nagano Prefecture that has been designated among the Preservation Districts for Groups of Historic Buildings.
You can experience of Japanese old fashion life style here in Narai-juku.
It takes only 40 mins from Shinyu, and is also in the middle of the between Nagaoya and Suwa.
■

Hida Takayama

Takayama is a historical place which is rich for old fashioned streets, traditional cuture and beautiful nature.
It is famous for the old traditional japanese cityscape which is listed at the most visited tourist destionation.
■

Matsumoto Castle

Matsumoto Castle is very popular national treasure, and the donjon consists of 5 layers.
You can see beautiful scenery of Japan Alps from the top of the donjon.
You can reach Matsumoto Castle only for 60mins by train and by bus, and it is also on the way between Kamisuwa and Kamikochi.
■

Jigokudani Onsen

Even that kind of severe environment here is a paradise on earth for monkeys to live in. The troops of wild Japanese macaque (they are popular as snow monkeys)
inhabit there through the ages.
■

Utsukushigahara-Highlands

Utsukushigahara is a plateau to boast of the JapanÅfs largest plateau and declared as one of 100 famous mountains in Japan.
You can take a trekking cours, by seeing an idyllic grassy plain and the steep topography.
It only takes 60mins from Tateshina and Kamisuwa.
■

"Sake" Factory Toure

Suwa area produces many kinds of local ÅgSakeÅh.
Most of the Sake factories are within 15mins from Kamisuwa Shinyu.
You can visit ÅgSakeÅh factories, and of course, you can buy ÅgSakeÅh for your souvenir and for your own.
FAQ
Is there a pickup and drop-off service?
Our bus runs four times daily between Kamisuwa-station's west entrance and our spa. Or, if you call, we will be glad to pick you up.If you have any questions, please call.
Does your staff speak languages besides Japanese?
We have English speaking staff at the front desk.
Can you hold my luggage?
Yes, we can hold it at the front desk. Also, if you plan on sightseeing in the area after checkout, we can hold it for you. Please let us know.
Is there a cancellation charge?
Cancellation charges apply from three days prior to your expected arrival.
(3 days prior: 30%, 2 days prior: 30%, day before: 50%, same day: 100%)